How to Raise $500,000 on Kickstarter for Your Book
In this article, you'll learn how to offer compelling rewards and bonuses for your crowdfunding campaign.
Ever since helping with the launch of The 4-Hour Body, I've come to think of Kickstarter as THE ideal platform for launching a book. Kickstarter allows authors to earn an advance from their readers, while simultaneously marketing their work before its release.
This is far more efficient — and fulfilling! — than getting a book agent, shopping a proposal around to traditional publishers, and getting ignored because you don't have 100,000+ followers online.
The Best Kickstarter Rewards for Authors
In order to find the most compelling rewards for Kickstarter books, I assessed three hugely successful launches:
The Leader's Guide by Eric Ries
The Golden Ratio Coloring Book by Rafael Araujo
The Freedom Journal by John Lee Dumas
Here are the breakdowns…

THE LEADER'S GUIDE by Eric Ries
Raised $588,903 from 9,677 backers
Best Performing Bonuses: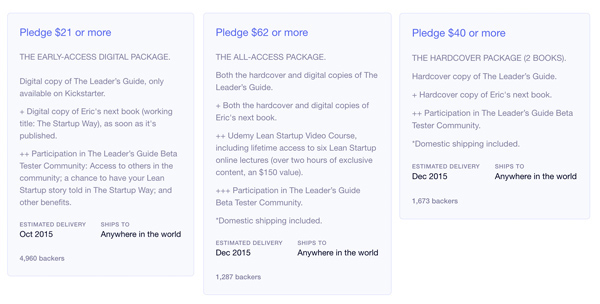 THE GOLDEN RATIO:
Raised $483,479 (AU) from 8,297 backers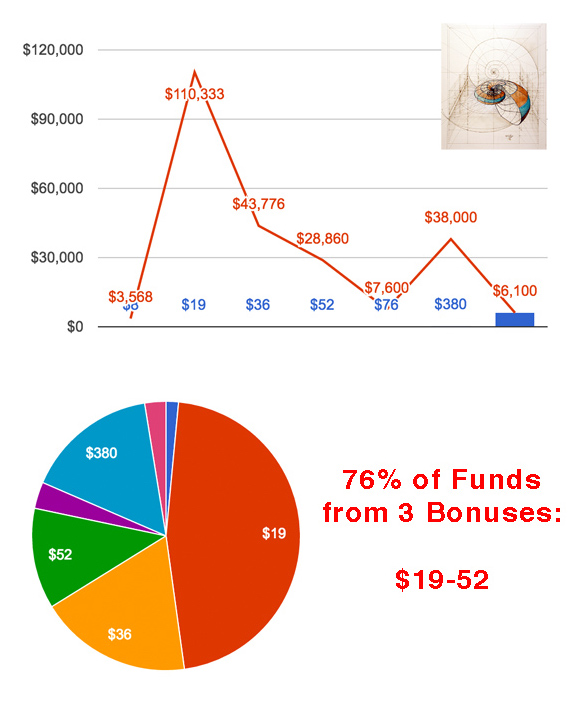 Best Performing Bonuses: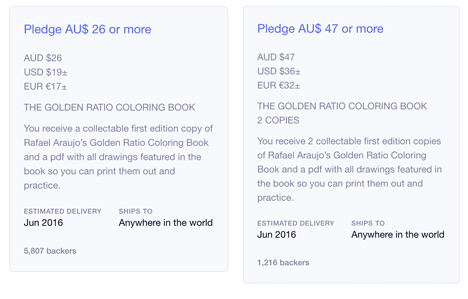 THE FREEDOM JOURNAL by John Lee Dumas
Raised $453,803 from 7,063 backers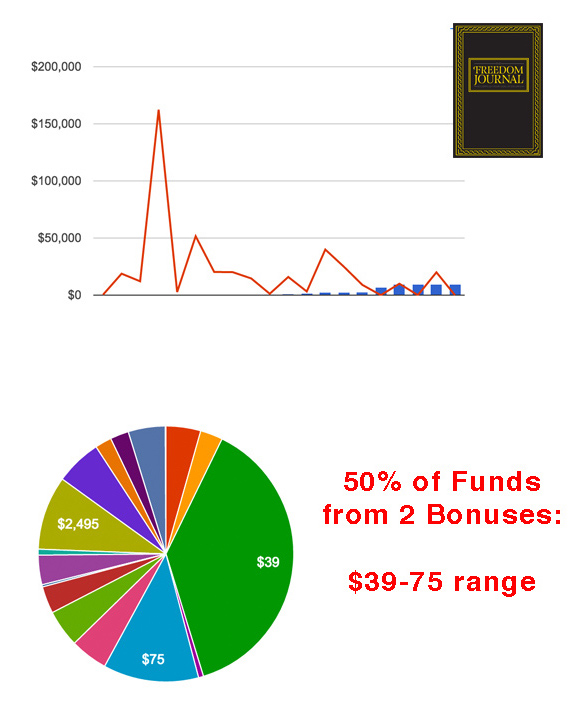 Best Performing Bonuses: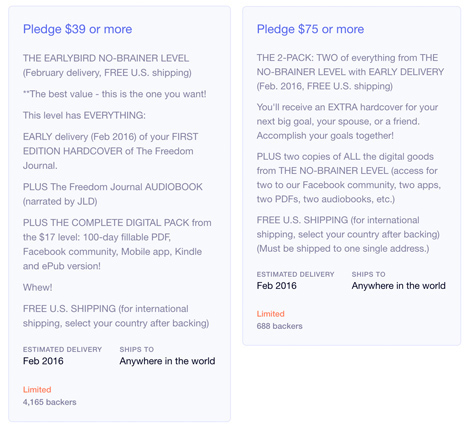 Key Takeaways
50% of your Kickstarter funds will likely come from bonuses that cost $20-75. Impulse purchase prices (less than $50) will have the highest conversion rate, so it behooves you to make those bonuses super valuable. Don't lose focus by offering as many different rewards as possible. Just get the essential offers right, which are…
Bonus #1: "The Early Bird." Your backers are funding your project because they want to get in on the ground floor of something new. Give them what they want most: early access to your book. It will likely be your most lucrative offer.
Bonus #2: "One Physical + Digital Copy." It costs you nothing to send a PDF or Kindle version of your book to backers, so be sure to include it as additional incentive to purchase the physical copy.
Bonus #3: "Two Physical Copies." Your backers will want to give your book away as a gift. Encourage them to spread your message!
Offer Two Premium Bonuses. Come up with two packages that are valued between $300 and $10,000, then limit their availability. If you're a speaker or consultant, you can offer keynotes, workshops, promotions, consultations, or 1-on-1 time as a reward for $5,000 to $10,000. Check with your existing clients before launching to see what would be a no-brainer for them to purchase.
Deciding on your Kickstarter bonuses doesn't have to be complicated. Just focus on the critical few — the 20% that will drive 80% of the results — and avoid offering tons of different packages that will be a nightmare to fulfill.
After you've launched, promote like hell!