💡
KEYNOTE SPEAKER → Charlie helps high-performance teams unlock their playful side, elevate their wellbeing, and reverse burnout.
🌎
TOPIC → The Power of Play
🛩️
LOCATION → Travels from Colorado
Is This You?
✅ "Some of our team is burned out, while others are engaged and happy. We want to do a better job supporting everyone, especially those who are struggling."
✅ "We want our team to think holistically about their health. We can't have them working non-stop, it's unsustainable."
✅ "We like Brené Brown's work on vulnerability, but it can feel a bit too heavy."
✅ "We want our event to be fun and connecting, but we don't want our team to feel overwhelmed by the idea of incorporating play into their lives."
Charlie Solves Your Problems
High-performing organizations have invited Charlie to present when they're experiencing one (or more) of the following:
Burnout
Chronic stress
Anxiety
Poor work-life balance
Lack of teamwork
Lack of meaningful connection
Lack of fun and joy in life
Taking vulnerability to the next level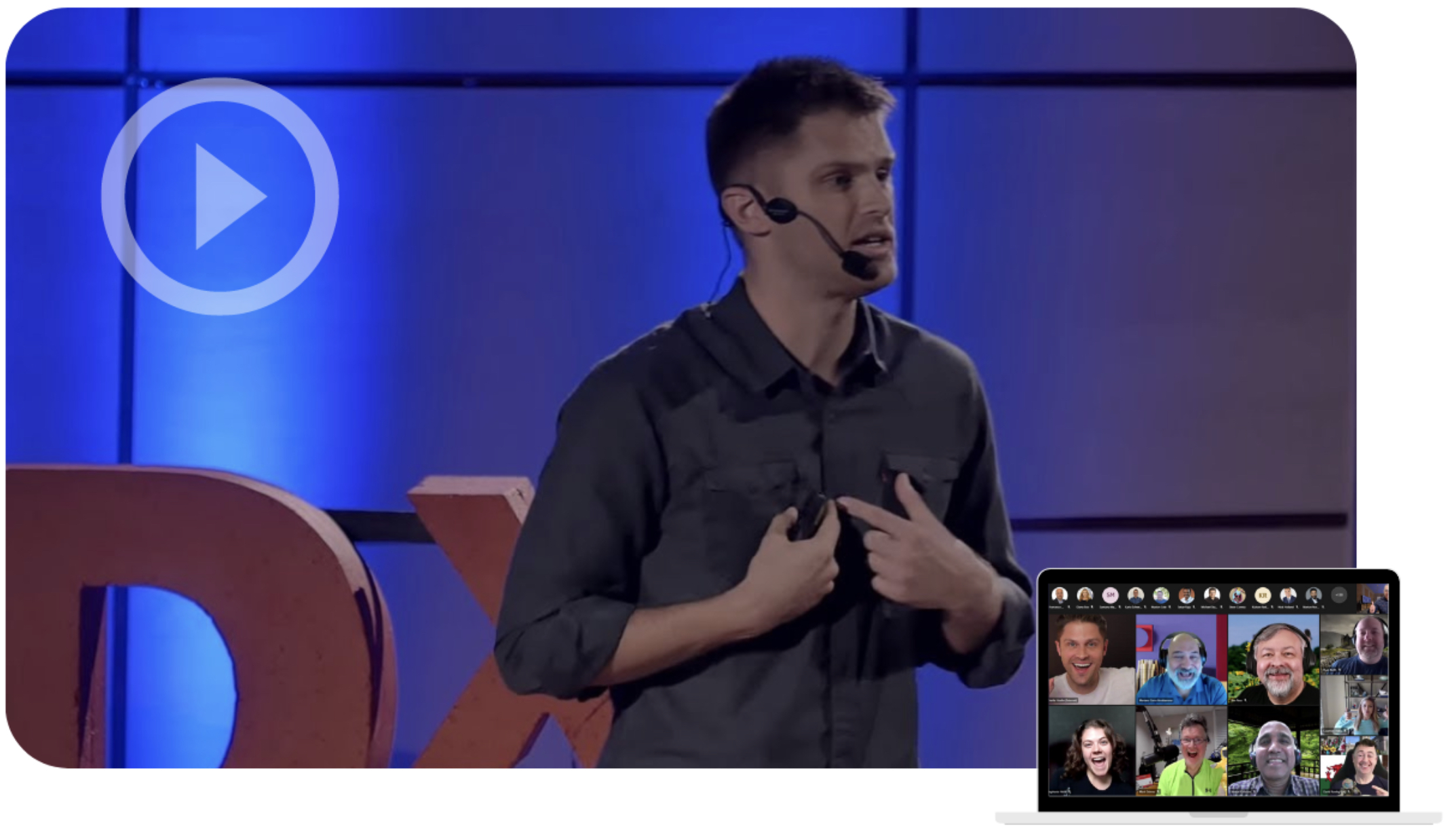 Most Popular Topics
How to Reverse Burnout and Eliminate Stress  
Get your best performers unstuck by boosting morale and relieving chronic stress, through the power of play. In this interactive presentation, bestselling author Charlie Hoehn will teach proven tips that can eliminate overwhelm, stress, and burnout — even if your group has a full schedule, and the most stressful jobs in the world.
How to Unlock Innovation and Creativity
In this presentation, you will learn practical applications of having a "Play First Culture," all while boosting innovation, retention, and profitability. By the end of the presentation, you will have actionable insights and tools that you can implement within your company.
To discuss your upcoming event, contact Charlie HERE.
Frequently Asked Questions
How can I arrange for Charlie to speak at our event?
Contact his team HERE. In order to proceed with a speaking engagement, he will need to know certain information about your planned event: the date and time, the location and venue, the purpose or theme of the event, and the size and composition of the audience. Once these details are established, we will work with you to finalize an agreement.
How far in advance do we need to book Charlie as a speaker?
It's best to reach out at least four to six weeks in advance of your preferred date, but he will do his best to accommodate special circumstances.
What are Charlie's fees?
Speaking fees vary depending on event location and the client's needs. You can get a custom quote from messaging Charlie here. With advance notice, Charlie will sign books, take photos, and/or lead a workshop. Books and workshops can be provided to attendees at additional cost.
*Required, but not included in the overall price: One (1) business class fully-refundable airfare, ground travel, accommodations, and reasonable meals and incidentals. A non-refundable deposit totaling 50% of the keynote fee is due on contract signing to hold the agreed-upon date for the client. Balance is due 30 days prior to the event.
Who is responsible for making Charlie's travel arrangements?
We will make airline and ground transportation arrangements. We ask that the client make Charlie's hotel arrangements (1 junior suite king) and provide the reservation information to hi@charliehoehn.com.
Where can I find Charlie's bio and headshots?
You can find Charlie's media kit HERE.
Play Workshops
Every Presentation Includes
Personalized content for your audience
Interactive, engaging delivery
Powerful call to action
Fun team-building experience
Guaranteed satisfaction, or your money back
Event Planner Testimonials
Pepsi Co
"Charlie- It was a real pleasure to have you in the meeting. Everyone kept referring to your speech and making reference to it throughout the day! You nailed it tailoring it for us so big THANK YOU!!" - Ileana Barrera, Sr. Global Marketing Manager of Cheetos
TEDx Santo Domingo
"I've hosted 18 TEDx events around the world, and was lucky enough to have Charlie at two of our TEDx Santo Domingo events. He is an amazing human being and a true expert at making work happier and less stressful through play. I would have Charlie back in the Dominican Republic in a heartbeat. I can't recommend him enough." – Freddy Ginebra
Tesla
"Charlie delivers a message that resonates with everyone. I've personally made adjustments to my life after hearing him speak, and many of my coworkers at Tesla are starting to do the same. It's been a privilege to share the stage with him at The Pentagon, Fort Hood, TEDx Santo Domingo, and more events to come." – Josh Mantz, HR Business Partner
GoodLife Companies
"Charlie is one of the most fun speakers we've ever had. He's full of practical ideas, great stories, and so easy to relate to. By the end of his speech, he had all 80 attendees on their feet, playing Rock Paper Scissors with each other. After a long day of sitting and quietly taking notes, it was so refreshing to see the room full of energy and laughter." – Krisstina Wise
Microsoft
"Thank you Charlie for another great session delivered to the Soft Skills Community in Microsoft attended by 105 members from Microsoft FTEs (managers, leaders, executives, consultants and account team) from multiple countries worldwide including Europe, Middle East, Africa, Asia, LATAM. The call survey was very positive with a rating 4.8 out of 5 stars." – Ahmed Zayed
Ignited Leadership
"When I think of speakers who have changed my life and business, Charlie Hoehn is the first one that comes to mind. Before I saw Charlie speak I was successful on paper, but privately overwhelmed by stress and anxiety. Apparently Charlie had been there too and gave amazing tips for using play, fun, and intentionality to get back to loving life again. Today, thanks to Charlie's training, I host non-traditional meetings that my clients LOVE. More importantly, I'm easier on myself, I feel like I can control my anxiety, and I enjoy my work – and life – much more. Charlie gets my highest recommendation as a speaker and trainer. He is not to be missed." - Jason Connell
Google Startup Weekend
"Charlie has a unique ability to capture any type of audience and get them to think outside of the box – including innovative hackers and entrepreneurs that never turn off. Instead of the typical internet tycoon, VC, or over-worked startup founder, I wanted to bring in someone with a fresh, philosophical perspective. Even though he was the only one speaking, Charlie had a conversation with every single person in the room. And that influential conversation continued well after he left. It's very rare to find someone who's able to give advice to an anonymous audience like they would to their best friend. And that's what makes Charlie's talks that much more powerful – you'll see the tangible effects instantly." – Anjali Kundra
Immunoglobulin National Society
"Thank you for giving such a heartfelt, inspiring, and entertaining keynote. Your sincerity and your message resounded with the audience, and inspired us all to analyze our lives. Thank you for sharing your story!" – Luba Sobolevsky
Texas Lawyers' Assistance Program
"I absolutely LOVED Charlie's message to have more fun. He combined research and heartfelt storytelling into a highly relatable presentation. He's a wonderful resource to the field of mental wellness. We cannot thank him enough for his contribution. I only wish more of our members could have attended." – Cameron Vann
American Dream U
"When we approached Charlie to speak to a group of Veterans, there was no hesitation in his acceptance, and boy did he knock it out of the park! His message was spot on and the audience was truly engaged. We hope his schedule will allow him to speak at all of our future events!" – Phil Randazzo
Words With Friends
"Charlie does something few people have the courage to do: shine a spotlight on a topic that so many of us suffer from and don't want to admit is a problem. Overwork, social isolation, and burnout are issues that ring true for the majority of people in today's society, and Charlie's message in support of play acts as a constant reminder that we don't have to live that way. I've personally seen that integrating play into a daily routine is critical in the startup world, and that it acts as the foundation to the kind of outside-of-the-box thinking that sparks the innovation necessary for disruptive change." – Vijay Thakkar
Charlie Hoehn Bio
Like you, Charlie Hoehn has struggled with burnout and debilitating anxiety. Was it from working until 2AM each night? Was it the four cups of coffee each day? Or was it something else entirely?
With over a decade of working alongside some of the world's top thought leaders, Charlie's approach is radically different. He believes that staying playful is the key to success in business, in relationships, and in health. Play is a way of life.
Charlie is the author Play It Away: A Workaholic's Cure for Anxiety, which Tony Robbins called "The cure to your stress!" His work has been featured on NPR's TED Radio Hour, Harvard Business Review, Financial Times, Forbes, Fast Company, Tim Ferriss' blog, and Huberman Lab. He has been invited to speak to groups at the Pentagon, Stanford, Microsoft, Pepsi, HEC Paris, and Mental Health America.
Please welcome, Charlie Hoehn.
Previous Engagements Include
AIMS Community College – Greeley, CO
American Dream U Executive Program – Fort Hood, TX
American Dream U – The Pentagon, Washington D.C.
American Dream U – Fort Bragg, NC
American Dream U – Presidio of Monterey, CA
American Dream U – Cannery Casino, NV
App Empire Conference – San Diego, CA
Association For Applied And Therapeutic Humor – Orlando, FL
Cheetos (Pepsi Co) – New York, NY
Colorado State University – Fort Collins, CO
COSGA – College Station, TX
Elevate Retreat – Breckenridge, CO
Executive Women in Texas Government – San Marcos, TX
FORO GO – León, Mexico
Google Startup Weekend – Gainesville, FL
HEC Paris Business School – Virtual
IgNS Conference – Dallas, TX
Ko School – Austin, TX
Mental Health America – Alexandria, VA
Mosaic Medical – Bend, OR
New Canaan Society – Orlando, FL
PepsiCo – Mexico City, Mexico
Project ECHO – Virtual
ReThink – Gainesville, FL
Stanford University – Santa Clara, CA
SumoCon – Austin, TX
Tecnológico de Monterrey – Guadalajara, Mexico
TEDx Santo Domingo – Dominican Republic
TEDx Carnegie Mellon – Pittsburgh, PA
TEDx Mission San Jose High School – Fremont, CA
Texas Tech – Lubbock, TX
Texas Lawyers Assistance Program – Austin, TX
Wealthy Wellthy – Austin, TX
Speaking Availability
In order to best serve event planners and audiences, I only commit to one (1) speaking engagement per month.
Want to chat? Shoot me an email: