Book Launch Breakdown: Play It Away's First Month of Sales
Remember my plan for how I wanted to market my self-published book? Well, I followed it. Let me show you how things turned out during my book's first month…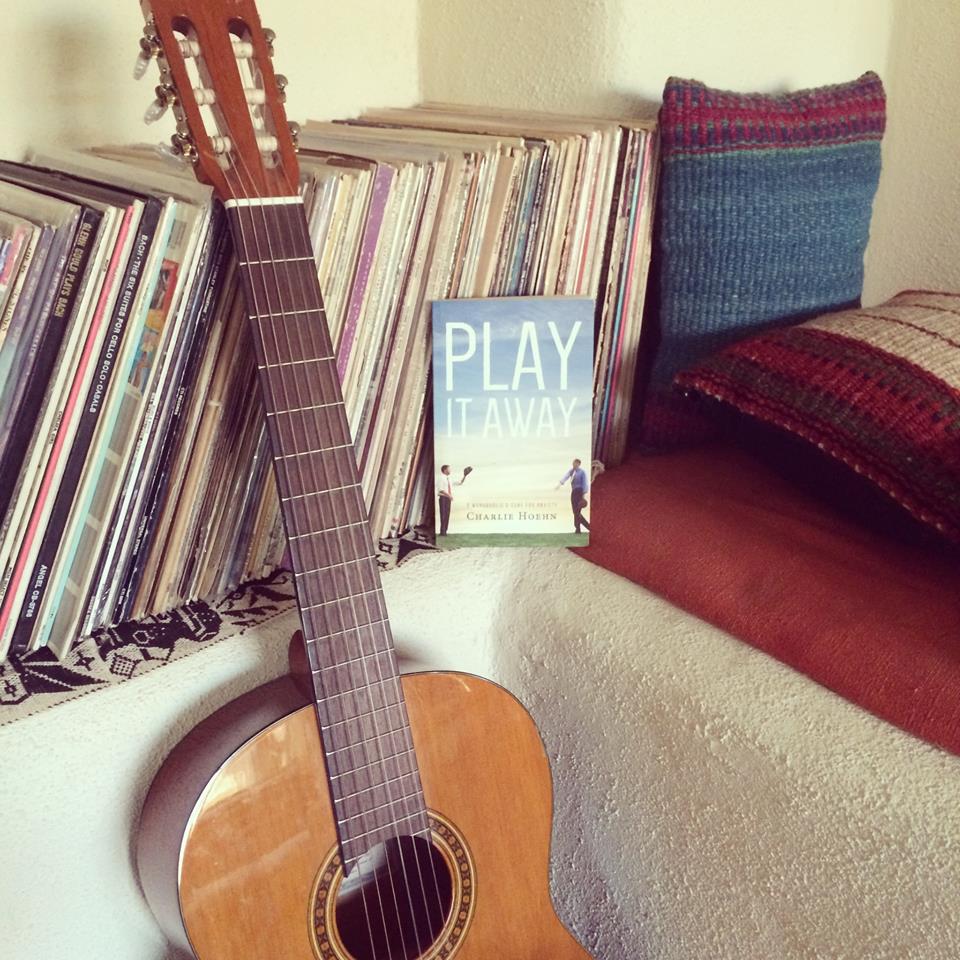 Remember my plan for how I wanted to market my self-published book? Well, I followed it.
Let me show you how things turned out during my book's first month…
Photo by Sarah Ramey
The book was released at the beginning of February. Here's a breakdown of the sales:
868 paperbacks sold via Amazon (price: $11.69)
925 Kindles sold via Amazon (price: $4.99 – $9.99)
77 iBooks sold via iTunes (price: $9.99)
130 PDF bundles sold via Gumroad (price: $17)
13,000+ downloads via Appsumo (price: $0)
COPIES SOLD = 2,000DIGITAL vs. PHYSICAL = 57% / 43%I know the PDF is converting about 3.47% of visitors on Gumroad. We can assume that Amazon has a slightly higher conversion rate, since the price is lower and there's 1-click purchasing.
I'm guessing that the conversion rate for the book's Amazon page is 5-8%.
Which means I probably drove about 25,000 – 40,000 visitors to the Amazon page.
If we're assuming a 10% click-thru rate, then nearly a quarter of a million people were exposed to some online content related to my book.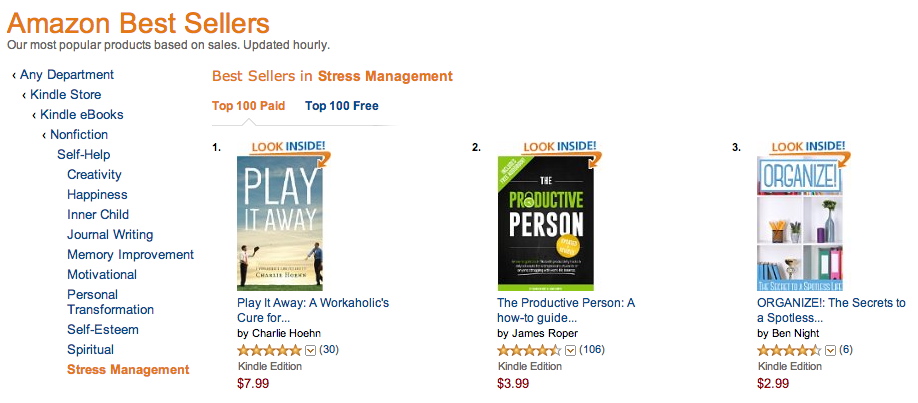 Personally, I'm very happy with those numbers. That's a solid launch for a self-published author.
BUT I was expecting 2,500+ sales. When you see the press pieces I had lined up, you'll understand why.
PRE-LAUNCH
Press
# of copies sold = 85
0 paperback
0 Kindle
0 iBooks
85 PDF
NOTES: I was mostly focused on getting Amazon reviews during this phase. Before the press started, there were about 20 reviews up from my beta readers.
WEEK ONE
Press
# of copies sold = 34
1 paperback
13 Kindle
0 iBooks
20 PDF
NOTES: I was a guest speaker for PaleoCon's private seminar thanks to Patrick Vlaskovits, who generously offered to promote me to his PaleoHacks list.
WEEK TWO
Press
# of copies sold = 435
138 paperback
269 Kindle
18 iBooks
10 PDF
NOTES: I gave Tim the exclusive for breaking the book during launch week. That was followed by two small self-publishing podcasts, the first of which was with my buddy Sean Platt (who I met through Tucker Max). Sean is one of the most prolific authors in the world.
WEEK THREE
Press
# of copies sold = 1,150
637 paperback
463 Kindle
38 iBooks
12 PDF
Notes: The AppSumo promotion resulted in over 13,000+ downloads of the book. If I'd known it was going to move that many copies, I would have done a better job optimizing it to convert to sales AND I would have pushed that promotion much harder (e.g. getting influencers to tweet about it). My post on Noah's blog is sloppy and unstructured because I was pretty sick when I was writing it. The title is also ironic, considering I did NOT hit #1 overall (though I did hit #1 in Stress Management).
WEEK FOUR
Press
# of copies sold = 296
92 paperback
180 Kindle
21 iBooks
3 PDF…
Then today, Tony Robbins — of all people — randomly shared my Fast Company article with his 2 million Twitter followers and 1 million Facebook fans: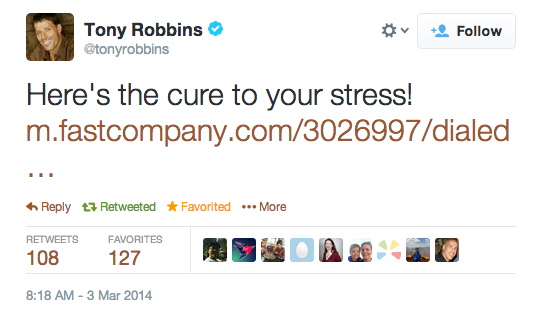 I've never met Tony, nor do I have any clue how he came across that article. Pretty cool  :)
Post-Launch AnalysisIf I were to do this launch all over again… I would have focused on:
Amazon Kindle sales
Big promos where I give the book away for free
Exclusive offers for email lists with 10K+ subscribers (especially lists that have customers who buy health products)

Free 1-hour webinars about overcoming anxiety, with a CTA to buy 30 or 300 copies of the book
Seriously, 17% of the total copies sold (35% of physical copies) came from ONE PERSON during a webinar. That's huge.
I also REALLY should have taken the time to properly optimize the free PDF I gave away on Appsumo. Then I should have pushed as much traffic to that download page as possible. 13,000 downloads is a lot, but it could have been more. Same with the number of sales.
My most ardent and vocal supporters for this book have been soldiers — Army, military, Marines, and veterans. I'm going to be speaking to 500 soldiers on March 21st in Vegas about free work and my new book. Check it out: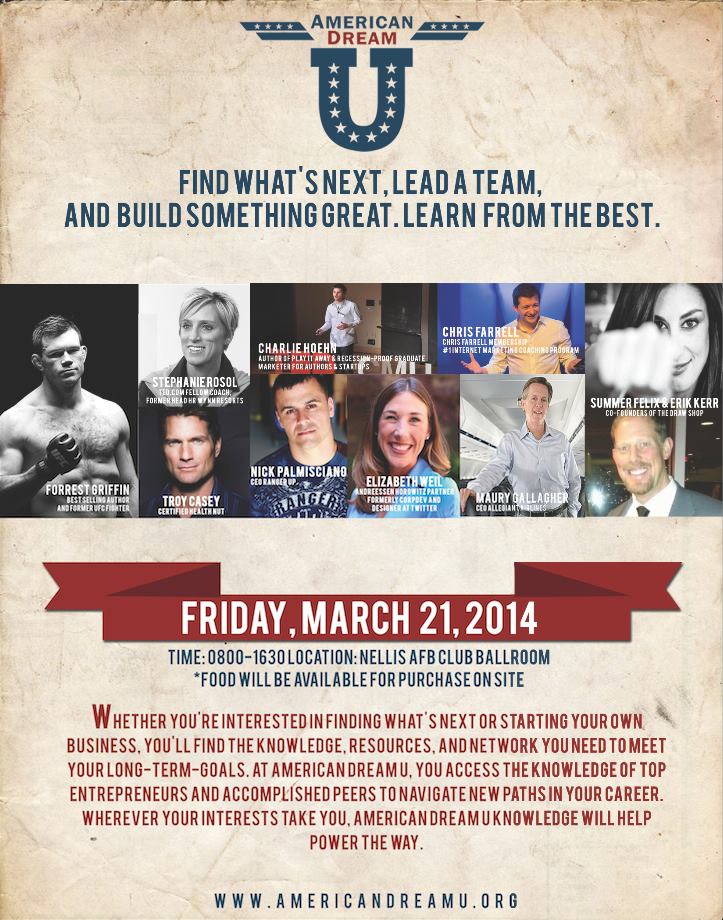 Time WastersThe "10-days to heal your anxiety" email course (scroll down to see the sign up). It's actually pretty cool and useful, but I only have about 250 people signed up for it. I'd have to promote this separately from the book in order for it to do well, and since the whole point of the course is to get people to buy the book, then it was kinda pointless to make this in the first place. I would have been much better served just offering a sample chapter of the book, like I do on this landing page.
Creating a separate 8.5 x 11″ PDF. The biggest mistake I made was formatting the interior for two different dimensions — 5 x 8″ and 8.5 x 11″ — a massive waste of time. I have no idea why I thought an 8.5 x 11″ PDF was a good decision.
Putting so much effort into making of the paperback. Don't get me wrong — it's really cool to have a great looking physical book. But it's already clear to me that most of the revenue is going to come from Kindle sales for this book. I should have put more effort into perfecting the design for the .mobi file.
Bonus gift fulfillment. I had a TaskRabbit handle mailing out the Aerobies, bracelets, and other gifts for bulk order people. But I spent several hours handwriting notes and addressing envelopes. I probably should have hired a TaskRabbit to handle everything (except the handwritten notes) from the very beginning.
#  #  #
There's a lot more to come, but I just wanted to share that stuff with you guys. Let me know if you have questions in the comments.
If you liked the book and want to help me out, you can do one of these things:
Tell me how to get the book into the hands of as many soldiers and veterans as possible. I want this book to help those who need it most.
Leave an honest review on Amazon or on iBooks. Don't skip this just because there are 60 reviews there already! The more reviews the book has, the better it will do over the long run. I want to reach 100 reviews before mid-March.
Buy the paperback, take a picture of you with the book, then post it on Amazon. Get creative — take a picture of you and your friends playing with the book in the foreground. I'd love to see the book in the context of play.
If you want to meet me at SXSW…Just sign up to receive text message notifications from me. I'll send out a private text if I'm going somewhere for a few hours, and you come meet up and say hi. Here's how to sign up for the private updates:
– Send a text to (512) 379-5912 with the message "@hoehnsxsw"
OR
– Send an email to hoehnsxsw@mail.remind101.com