From Fan to Employee: How Alex Scored a Job with Exo
When you're applying for a job, 90% of your communication should be about how you can add value to the employer.
Alex is one of my students in the Land a Job You Love course.
After completing each lesson, Alex created a gift proposal which resulted in a job offer from Exo Cricket Protein Bars.
Making this gift required several revisions with lots of fine-tuning. The slides have a nice balance of text and imagery. None of the slides feel overwhelming to the reader, and each slide naturally flows into the next. It's clear and cohesive.
Notice how the focus of the presentation is almost entirely on THE COMPANY. Instead of just talking about his own accomplishments, Alex shows a picture of himself and three noteworthy bullets. Then he dives right into the plan: How Exo can boost its bottom line.
The second to last slide is about Alex's story, and it's even written to make him sound like he's already a member of their team (Exo sells cricket protein bars, so it's smart to tell them about how he enjoys exotic foods and working out).
Just 3 of the 23 slides were about Alex.
In other words: 87% of the presentation was about Exo.
This is an important lesson…
When you're applying for a job, 90% of your communication should be about how you can add value to the employer.
Roughly 10% of your communication should be about you and how you stand to benefit from the relationship, but only what's relevant and valuable for the company to know.
I see people screwing this up ALL THE TIME. As soon as they get into an interview, they drone on and on about themselves and what they want. They're completely self-serving, and because of that, they lose job offers left and right.
(This absolutely applies to dating, by the way. If you're chronically single, start paying attention to how often you talk about yourself, rather than asking about the other person).
Initially, Alex was frustrated because his target didn't respond right away.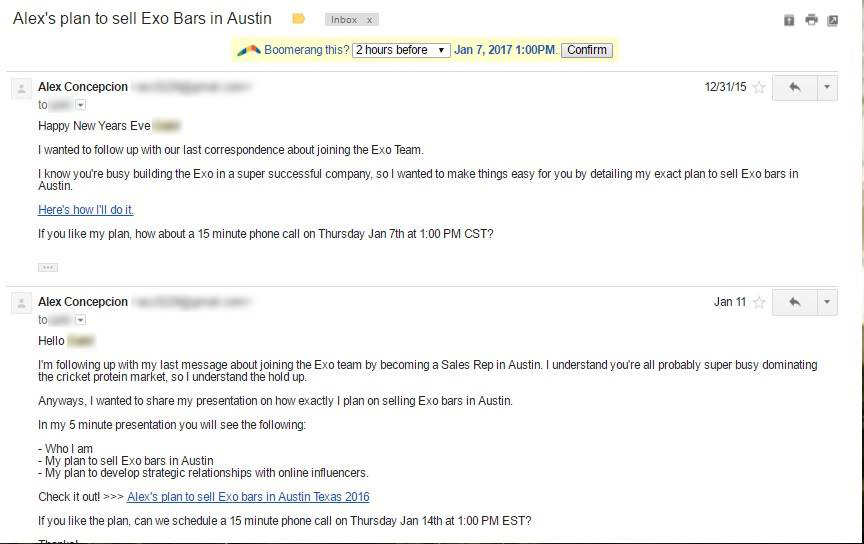 Wisely, he kept in touch:

Finally, he got the response he was waiting for: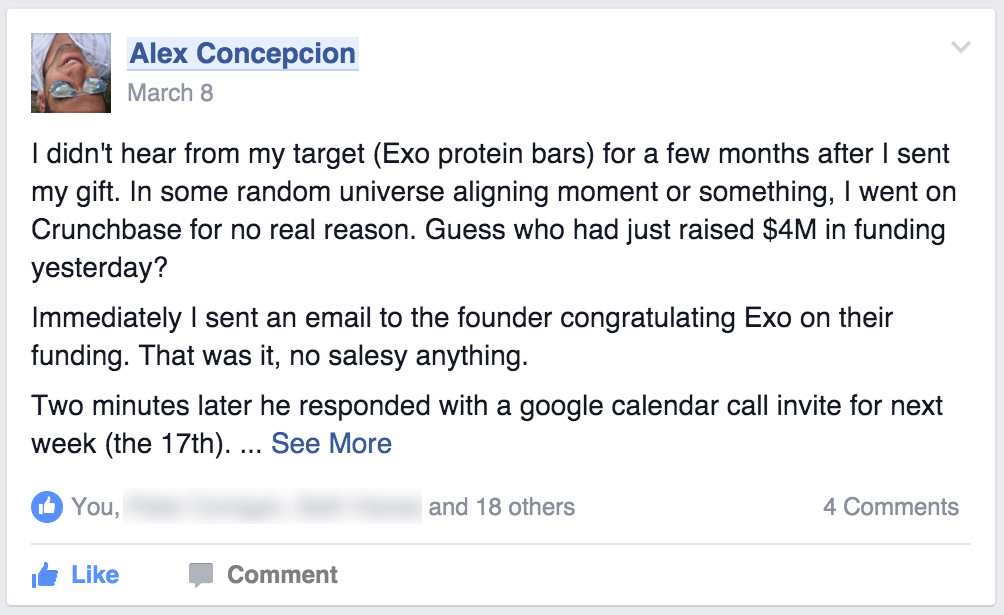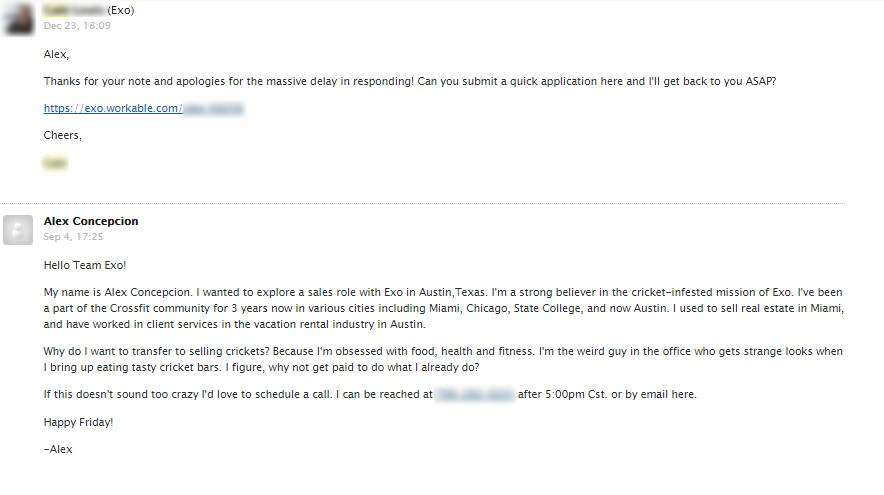 After the phone interview, he wrote this: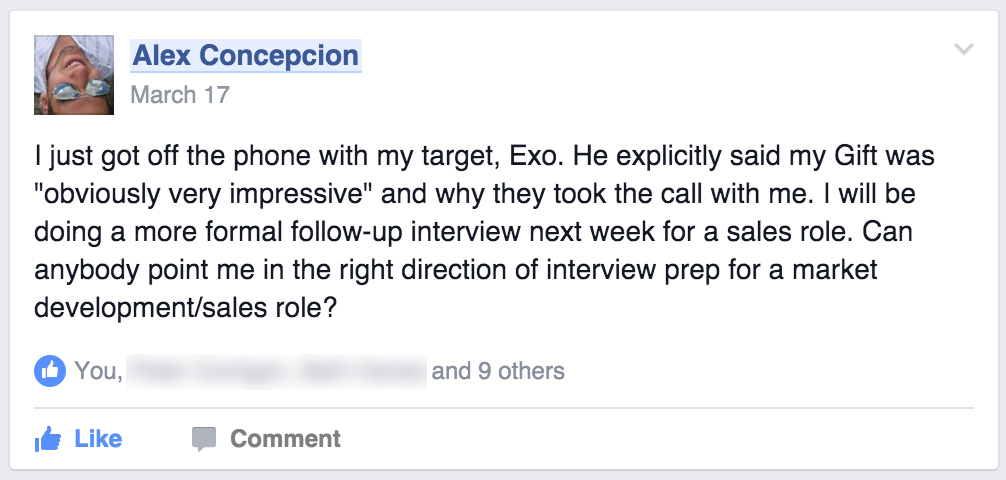 Our Facebook group pointed Alex to some resources, and he was off.
Two weeks later, he was hired: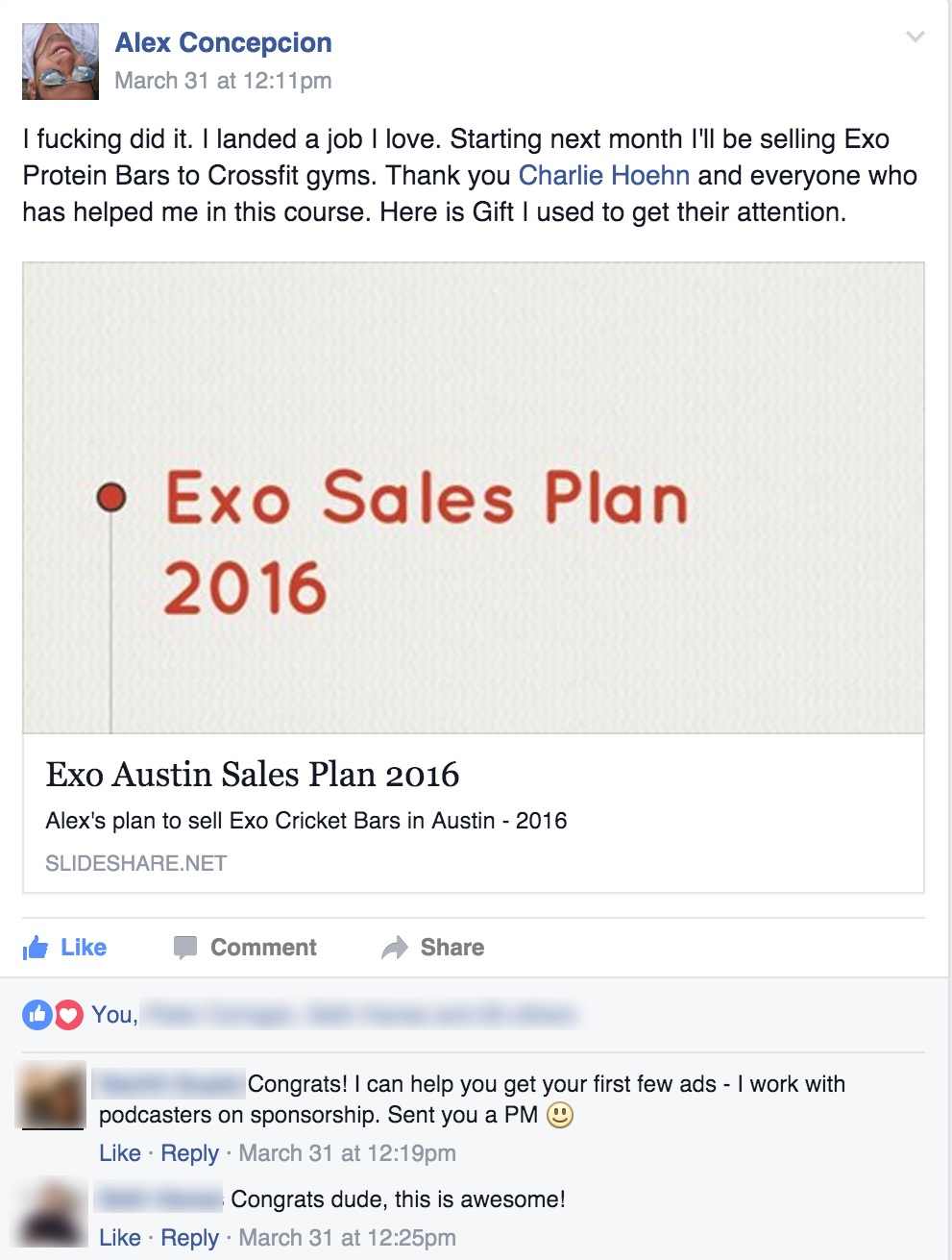 Anyone can follow the structure Alex laid out when creating a proposal for a company. But the devil is in the details, which is why the course teaches you how to select a great target and "audit" their business, before you even start making a gift. After you've created the gift, you need to send them a compelling, concise email with a call-to-action.
Alex's biggest takeaway from the course?
"Focus on building friendships, rather than being the career equivalent of a pick-up artist."
And how's the job going?
"This new job is awesome. All I do is hang out at gyms and talk about food."