Events
CHARLIE TO DO: Ask 10 ideal clients: What would completely change your business (or life) to spend a weekend focusing on? Make your first retreat stupid cheap so that it is easy for people to take a chance on an unknown Focus entirely on attendee experience Do not overspend on the venue — maybe offe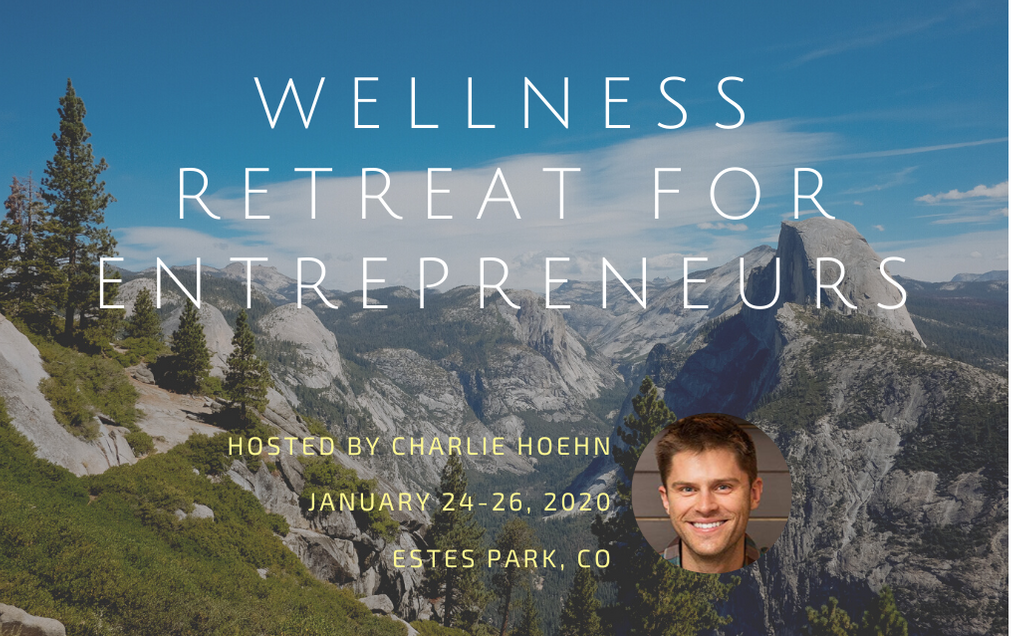 CHARLIE TO DO:
Ask 10 ideal clients: What would completely change your business (or life) to spend a weekend focusing on?

Make your first retreat stupid cheap so that it is easy for people to take a chance on an unknown

Focus entirely on attendee experience

Do not overspend on the venue — maybe offer the first 8 buyers will get all-inclusive, others have to pay for hotel

Organize teaching around ACTIVITIES and sharing results in the group, not so much teaching

Expect that the people who sign up right out of the gate (early bird) will represent 50% total

Possibly use the Dao House if you want to do a larger retreat?
The Wellness Retreat for Entrepreneurs is an all-inclusive, 3-day self-care experience.
Our focus will be to reduce your stress and anxiety levels by 50%, in just one weekend.
Led by author Charlie Hoehn, a small group of entrepreneurs will experience the ultimate "health refueling station" in beautiful Estes Park, Colorado.
This retreat is designed for entrepreneurs, founders, and busy executives who deal with chronic stress and burnout, are isolated by their positions of success, and need to recharge fast.
Is This Retreat For You?
This retreat might be perfect for you if…
You tend to neglect self-care, because you can't stop yourself from working
You feel like you can't afford to have fun or goof off, because you have to keep working
You've felt your health decline under the constant stress of "fight or flight" mode
Your life feels too serious and heavy
Your work feels mechanical and joyless
Your family is deeply affected by how stressed out you are, and it pains you
You've cut yourself off from your true feelings in order to be successful
You wish you had a "brotherhood" that really understood you, but you're isolated
You don't want "success" to come at the cost of your health, your family, or your life
The Experience
You'll spend three days at an all-inclusive retreat in Colorado.
The focus will be to recharge your body, restore your sanity, and reinvigorate your spirit.
You'll stay in a cabin in Estes Park, with a small group of entrepreneurs (hand-selected by Charlie Hoehn).
You will experience:
Interactive workshops to rapidly reduce stress, anxiety, and burnout
Holistic exercises to get you back in touch with your body
'Build with your hands again' workshop
Nutritious meals to help you refuel your body
Whiskey and s'mores around the campfire
Group breakouts to address personal and professional challenges
Bonus: 1-on-1 private consultation with Charlie
Bonus: Special guest speaker
After the retreat: 8-weeks of group support to integrate changes
The Schedule
Thursday
Afternoon: Optional additional coaching time, or free time in the house.
5:00 pm: Guests arrive, tour the property and amenities; reception with cocktails and snacks.
7:30 pm: Dinner, introductions.
8:30 pm: Module 1
Friday
8:30 am: Breakfast
9:00 am: Module 2
10:00 am: Bathroom and coffee break
10:15 am: Workshop
12:00 pm: Lunch
2:00 pm: Module 3
3:00 pm: Coffee and bathroom break
3:15 pm: Workshop
4:30 pm: First round of individual one-on-one's
7:00 pm: Dinner and socializing
Saturday
8:30 am: Breakfast
9:00 am: Leave for Hike
12:30 pm: Lunch
2:00 pm: Module 4
2:45 pm: Coffee and bathroom break
3:00 pm: Workshop
4:30 pm: First round of individual one-on-one's
7:00 pm: Dinner and socializing
Sunday
8:30 am: Breakfast
11:00 am: Guests head back home
#FOMO: Top 5 Things You'll Miss If You Don't Come
1. You'll miss out on starting your year off right. This is an opportunity to get charged up for Q1, and commit to a healthier lifestyle in 2020.
2. You'll miss another opportunity to take care of yourself. Everyone you care about wants YOU to take better care of yourself and be happy. If you won't do it for yourself, then do it for them.
3. You'll miss the best price ever. All future retreats will cost 2-3X as much.
4. You'll miss out on friendships with people just like you. This group can provide you the support and fellowship you need to transform into your better self.
5. You'll miss great memories and experiences. How much better could your life be, if only you'd take a chance and go to Colorado?
Ready to Apply?

Frequently Asked Questions
What's included in the program?
3 Day Program delivered by Charlie Hoehn
Local ground transport in Estes Park
Meals and drinks, from Thursday evening to Sunday morning
Who leads the workshop?
Charlie Hoehn, bestselling author of Play It Away.
Charlie has worked with (or advised) many entrepreneurs, including Tim Ferriss, Tucker Max, Ramit Sethi, Seth Godin, and Gary Vaynerchuk.
His work has been featured on NPR's TED Radio Hour, Fast Company, Harvard Business Review, Forbes, Inc., and many others.
You can read more here.
Do I have to come to Colorado? Is there a remote option?
Yes, you must come to Colorado.
This is an in-person experience only. There will be no remote or digital retreats.
What support do I get after the workshop?
You get eight weeks of continued group support.
We will also offer an ongoing annual support program, for those interested.
What will we cover in the workshop?
See above in the 'Experience' section.
Do I have to come for the full workshop?
Yes, you must be present for the entire workshop.
We officially begin Friday morning @ 8 AM, and end on Saturday night @ 10 PM.
You cannot drop in late or leave early, no exceptions.
When should I fly in / fly out?
The ideal time for you to fly in to Denver is on Thursday afternoon or evening.
You can leave anytime you'd like on Sunday.
How do I get from Denver's airport to the retreat?
Your best options are:
Will there be more retreats in the future?
At this time, there are no future events planned. But we do intend to host more.
Our mission is to start a movement of the world's most capable people healing themselves, so they can go on to heal others.